Travel Tips for a Smooth Journey
Whether you're driving or flying, take steps to plan ahead and be prepared so you can enjoy a stress free travel experience. Make the most of your journey with these tips:
Share Your Itinerary
Let your family and friends know your travel plans with a detailed itinerary.
Provide information about your destination and the dates you plan to be there.
Include contact information, such as cell phone numbers and email addresses for yourself as well as the places you're staying.
Make Backup Copies
Make copies of any important documents you plan to take with you, including:
Drivers' licenses
Passports
Credit card(s)
Also leave behind a summary of health information, such as medications and insurance details.
Pack Lightly
Since it's much easier to roll around smaller luggage, pack what you need in a carry on for a plane trip. If you tend to overpack for a trip, find packing inspiration with these how-to tips! You'll enjoy your trip with less to worry about.
If you're traveling light and won't need to check your bags, be sure to follow the Transportation Security Administration (TSA) guidelines for carry-on. The TSA allows one clear plastic quart size bag of liquids, each 3.4 ounces or less, in your carry-on as you go through security checks. For more information, including current TSA requirements click here.
Bring Extra Prescriptions
Always bring extra medication and prescriptions and carry them in your carry-on luggage to avoid being without medication if your luggage is lost or your flight gets delayed. Tuck your doctor's contact information away in your wallet or carry-on in case of emergency.
Move Around
It's a good idea to walk around or stretch every couple of hours.  If driving, take 5-10 minute breaks at a minimum to walk, stretch, and get refreshed.
When flying, take a stroll up and down the plane aisle when you're allowed to move around the cabin.  Walking will help prevent blood clots that can form in your legs, known as deep vein thrombosis (DVT).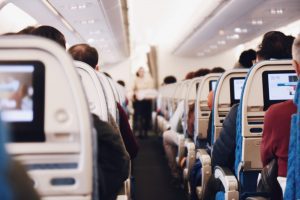 Stay balanced and flexible with a few basic exercises, such as stretching your toes, circling your ankles, and doing some seated marches. These stretches will get your blood circulating and keep your joints and muscles relaxed so you'll feel more balanced when you arrive.
Stay Hydrated and Bring Healthy Snacks
It's easy to get dehydrated and faint from hunger when you're traveling. And there's nothing worse than getting hungry or thirsty in the middle of a trip with nothing but fast food in sight.
Avoid dehydration by packing water bottles in the car and carrying one with you on the plane to avoid heat stroke and dehydration. Get in the habit of sipping water throughout the day.  You'll have more energy and enjoy your travels more.
Bring your own healthy snacks, such as energy bars and nuts, to keep you feeling energized.
Be sure to eat breakfast before you hit the road, with a choice that includes some protein so you stay full longer.
Get Plenty of Sleep
We all know the strain that even the most enjoyable trips can bring. Keep your spirits high and your body healthy with a good night's sleep. This is especially true if you're changing time zones—try to adjust your sleep schedule to the new time zone before you leave to help you avoid jet lag.
Wherever your travels lead you this summer, you can relax knowing you're well  prepared for the trip.  Bon Voyage!