International Day of OIder Persons 2019
October 1st is the International Day of Older Persons, which acknowledges and celebrates the accomplishments of the older members of our communities and the contributions they continue to make to our world. According to the United Nations, we are in the middle of a period of global aging, meaning that by the year 2030, people over the age of 60 will outnumber children and youth, bringing about one of the 21st century's most significant social changes. 
Last week we had the pleasure of sitting down with Dolores and Al, two of our residents who prove that age is just a number when you're an active member of a vibrant community like Ávila. While talking we had a chance to hear their stories, reflect on how the world has changed, and what they have learned over the years. 
First we spoke with Dolores, who we are told is always on the go. When she sits down with us, she wastes no time removing the vase of flowers from the table in front of us so we can chat without interruption. Originally from Woodhaven, Queens, Dolores, who turned 94 on July 9th, moved to the Upstate area when her husband, a thoracic physician, was placed here for a residency. Prior to moving to Albany, Dolores lived and traveled around the world with her family, including visiting Australia and New Zealand. Dolores and her husband, who was a doctor in the army, were living in Japan in 1949 when their first daughter was born. Their return home, almost 70 years ago, was a close call, "We got on the ship and we got back to the States, we arrived in Seattle. It turned out the next boat after us was turned around because of the Korean War….It was quite a story." As their family grew they settled down in a house on South Pine Street in Albany.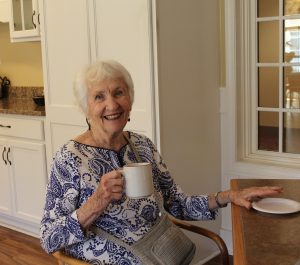 Incredibly, while she was busy raising her nine children, five sons and four daughters, Dolores made time to keep learning, and to keep doing what she loved. When her youngest daughter was old enough to go to kindergarten, she jumped at the opportunity to try her hand at learning something new and took up tennis. She is an avid reader, an excellent cook, and a volunteer in various capacities over the years, including at her children's schools and with the American Red Cross. She was motivated, she said without hesitation, by the desire "to help people." 
When asked about someone who has had an influence on her, she said, "My children are very grateful to me, they still say 'Thank you.'" Dolores believes her outlook on life has only gotten better as she has gotten older. "I think I look at life better now, and I love being here." Dolores is certainly an active member of the Avila Community, from Bridge to Book Club, and creating floral arrangements, among other activities, "I have a lot to do, I keep busy." Dolores' positivity and energy was evident throughout our time talking, particularly when we asked her about her philosophy of life, "I tell people if they have a worry, they should put it on the shelf, especially one that's not imminent, put it way high up on the shelf." 
When Al joined us he handed us his card, which reads: FREE COUNSELING ON ALL SUBJECTS. After speaking with him only a few minutes, it becomes clear that his perspective, informed by his lifelong work ethic, is one many seem to have sought out over time. Al is the child of immigrants hailing from Belarus, and arrived in the United States when he was just 11 months old, where they lived in a tenement in downtown Manhattan, before moving to Brooklyn when he was 5, "Right across the street from PS 206."
"When I was in the third grade the teacher said 'I'll award a prize to the child who comes out first in every subject.' The prize was a pencil box, I couldn't afford a pencil. At the end of the semester she says to me, you came out first in every subject." This determination grew while in school, and by age 12 he had begun working full time in a produce market. When he entered James Madison High School he attended the early morning session of school so he could work seven days a week as an usher at the Avenue U Theatre. In high school, at the height of the Great Depression in 1937, Al was one of more than 90,000 people to take the State's Accounting Exam. He scored 57th.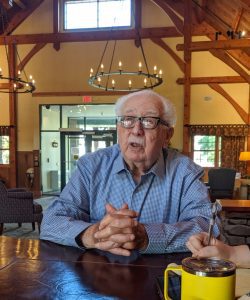 He was appointed to work in Albany, where he went on to found Staff Ciampino & Company, P.C. A successful, respected, and well-loved businessman and employer, his former employees even call him "Pop." He said, "That's one thing I did that I'm really proud of, helped other people." Al says the person who has had the greatest influence on him is wife, Eleanor, "The only person I could really say influenced me is my wife….she was good in music, she read books like crazy, she taught me the social graces. Before that I knew nothing about them." Together they have one daughter and one son, who is visiting Al this week in celebration of his 100th birthday on October 3rd. 
"Everyone is here to live out their final years, and I find that they are very friendly, very accepting, it makes no difference who you are." Like Dolores, Al keeps busy with Bridge and a number of other activities at Avila, and has even been successful starting a poker game that meets twice a week! "Life here is so wonderful, and the people are wonderful," said Dolores. 
Our residents are a wealth of wisdom and experience. It was a privilege to have the chance to speak with Dolores and Al, and to learn from the knowledge they can both impart upon others looking back on lives well lived. Happy International Day of Older Persons from the Avila Retirement Community!