Ask The Expert: Estate Planning
Success is where preparation meets opportunity. This well-known inspirational quote is a perfect example for something that may be a bit unexpected: estate planning.
When talking to Attorney Kerry Mierzwa, her personal story really resonated with us and inspired us to find out more:
"My grandfather kept all of his bank and financial paperwork in a file he showed my mom for years. When he passed away we discovered that he threw out all of his paperwork when he had dementia. We're still tracking down unclaimed funds 18 years later. That's why it's so important to write down where everything is located, what banks you use, the account numbers, the location of your retirement account, who provides the utilities to your house and what the account numbers for that are.

Providing this documentation and your estate planning documents can make a difficult heartbreak less stressful."
Her expertise led to a fantastic Q and A that we're sharing with you today!
Q: What's involved in estate planning? How do I get started?
There are a lot of challenging things in life but simple estate planning doesn't have to be one of them. A plan usually includes a will, a power of attorney, a health care proxy and living will. Some law firms will give you a discount if you have reciprocal documents drafted at the same time for your spouse and some unions include drafting these documents as part of a union benefit.
The best place to start is to sit down by yourself or with your spouse and think about what your wishes are. If you decide some things a head of time it will make it a shorter process when you do find an attorney. An attorney is absolutely necessary when drafting a will. If a will is not executed properly, if capacity is challenged, or the wrong legal word is used, your wishes may never be followed. Do you know the difference between per stirpes and by representation? Your lawyer does!
Q: Who needs estate planning?
Everyone needs estate planning documents. Time and preparation invested now can save thousands of dollars down the road and the whole process should take less than a few hours.
Let's start with drafting a will. A simple will normally says:
Who gets your estate when you die
Who raises your children
What happens to your assets
Q: What is a power of attorney or living will?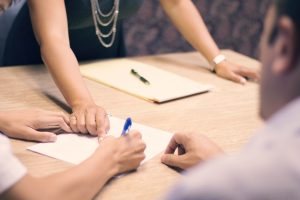 A power of attorney, health care proxy and living will outline who can give directives on your behalf while you are alive. A power of attorney allows someone to act as your agent and step into your shoes. You can pick different people to be in charge of different things. One person can manage your finances, while another person can sign legal documents, handle tax matters and create trusts, etc. to protect your assets. Without this document an individual would have to pay money petitioning the court to have this right to handle your affairs.
A health care proxy and living will can be done in one combined document or two separate documents. A health care proxy basically says who gets access to your medical information and who can make decisions for you. Some say whether or not you would like to donate organs. A living will says whether or not you would like to be kept alive by artificial means.
Q: Can I draft my own will?
Beware of drafting your own documents or using online resources that claim to provide a cheaper means of achieving the estate plan. Are those online resources going to represent your estate and loved ones in court if the documents are challenged? Do they have malpractice insurance or license requirements to demonstrate to you that they are a reliable business and can cover any damages you could incur for mistakes? How many of the wills drafted by them have been declared void by a court of law? How would you know? Let someone who has already learned the rules in your state help you carry out your wishes.
Furthermore, notary publics are cautioned against notarizing wills in the State of New York. If your will is tossed out, the court by statute says who gets what. This could amount in high legal fees.
Q: What if I need more than a simple will?
Advanced estate planning involves a review of your assets, your potential estate tax liability and setting forth a strategy for asset protection and smart planning for the future. This may include the formation of trusts for children, education, real property, etc. An experienced estate planning attorney should be consulted for at least a half hour to decide what needs you have and how can you preserve your assets for your loved ones.
Q: Where can I find more information about estate planning?
Besides your lawyer, the internet is a great resource to learn more about the process and what others have experienced. The website nolo.com usually provides some well-written basic information for most states on various legal matters. Also, some websites offer free forms (PDFs) that you can download and fill in to list where everything is.
You can read more about Kerry's experience practicing law here. Thank you, Kerry, for your expert advice!