8 Tips to Create a Cozy Home
With all the hustle and bustle of everyday life, it can be so important to create a calm, relaxing environment at home. But where to begin? Even a design novice can achieve cozy apartment style with these eight tips.
Make Where You Rest EXTRA Plush
Whether it's your couch or your bed, wrapping up in high-quality bedding will make a world of difference. So go ahead and splurge on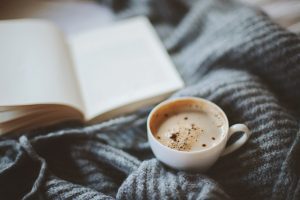 that super cozy blanket for your couch or some top-of-the-line linens. It's an investment you won't regret! Layering up on pillows can also create another level of luxury.

Consider Your Colors
Deep, warm tones can make it feel like your room is giving you a hug!
Special bonus: a darker color in your bedroom may help create an environment that fosters better sleep.
Keep Keepsakes Personal
Clutter can derail any type of room, so make sure you carefully select pieces that are near and dear to your heart (and also make you feel great).
Upgrade Your Ambiance
LED candles give you all the cozy feeling without the safety concerns! There are many available with easy-to-use timer switches that automatically shut off after a few hours. Talk about worry-free!
Don't Forget What's Under Foot
Rugs are the perfect opportunity to bring in an extra layer of plush and personality. They come in every size, shape and color, so there truly is a rug for everybody! Rugs are a perfect compliment to existing hard and soft flooring.
Create A Reading Nook
Display your most treasured books and choose the perfect chair for an afternoon of reading. Add a footstool to up your comfort factor even further.
Bring The Outside In
A quaint terrarium is a great low-maintenance solution to give your cozy space a little breath of fresh air.
Whether you live in a large space or have recently downsized, these tips will help you make your home a cozy space that you can personalize and make your own. To schedule a tour to see how some of our residences have made their own cozy spaces here at Ávila, please give us a call 518-452-4250.